Medicijnwiel & Sjamanistische natuurbeleving - Raven Dreamdancer&nbspHet Levenswiel
Geomantische visie op Amsterdam – Dick den Dool
Sufisme – Qamar Iqbal (English)
Een bomensjamaan over zijn werk en het Vondelpark - Dusty Miller (English)
Dolfijnenhealing I: Horace Dobbs: Ambassador dolphins + Project sunflower (English) &nbspto his website
Dolfijnenhealing II: Autisme en dolfijnen; Brigitte en Eve Hanf-Enos (English) &nbspDolphin friend website
Onderwater bevallen en oerkracht - Erica Muller en Anouk Dijckmeester




Wheel of Wholeness
het Maya Medicijnwiel.

Hawaiïaanse healing "Ho'oponopono" - Gerda van der Linden &nbspHo'oponopono
Ritme naar eenheid - Russell Hekster
Hein van Elteren over zijn boek "Kleuren in de lucht" over nieuwe tijdskinderen en het onbegrip &nbspWebsite Majoraan
Het Soefiepad – Adnan Sarhan (English) &nbspSufi Foundation
Hedendaagse Druïden – Emma & Philip Shallcrass (English) &nbspDruid order website
&nbsp Dreamtine verhalen – Maureen Watson (English) &nbsp Maureen Watson website
Knuppel in het hoenderhok – Peter Delahaye Ingenieur, econoom, astroloog, cosmic warrior
Visualisaties met Liesbeth
Venus X-files – Budd Hopkins (English)
Deel 1: Heelwording de psychiatrie voorbij met Coby Benkers en Katharina Kluyskens
Deel 2: De weg eruit naar NU - Idem. Praktijk voor trauma verwerking.
Koeien als guru's – Michael en Treenie Roads (English) &nbspThe Roads website
Krijgers van het Hart (Het Maya-medicijnwiel)
Teachings of Estcheemah the last Zero chief of the Maya's by Hyemeyohsts & Swan Storm (English)
&nbspBooks info


Earth Teaching Event
of the Sacred Maya Medicine Wheels by Hyemeyohsts Storm
at the Venus*TV Event 1998.


Yoga en heelworden – Patricia Blok naar website
De Dierenfluisteraar van Nederland (2 urig) - Focco Huisman
New Age en Joodse spiritualiteit – Eva van Sonderen's zoektocht
Venus zoektocht naar Lemurië in Indonesië – Anke van Ziel en Deborah Chömpff
Vrije energie & effectieve micro-organisme - Dave Rensman (micro-bioloog)
Kinderen over hun vorige leven – Joanne Klink Theologe naar haar website
Beeldend kunstenaar, raku-/theeceremoniemeester en rasta - Dan Ernst
Spiritualiteit en architectuur - Lani van Petten, Ton Alberts en Max van Huut naar hun website
Het pad van een klankmeester/sjamane – Raven Dreamdancer Healing Vibrations

Centrumschild: Klanksjamaan '89
~ Raven Dreamdancer
Healing Vibrations ~ Path of Beauty ~ Ravens Path/Song

One who is needed by the people - Wa-na-nee-che (English)
Het geloof in vaccinatie (de feiten) - Dr. Vera Scheibner (English) &nbspon vaccination
and website awareness on health Dr. Mercola
Doodgaan is meer gaan leven - Sun van Meijel
Equinox ceremony by Roy Littlesun (English)
Kunst en spiritualiteit in Z.O. - Eva Trautlein en Robert Doelwijt
Leven in bewustzijn, Muziek als middel - Chris Hinze &nbspChris Hinze
Carolina Bont – Spirituele ervaringen van kinderen &nbsphaar website
Dr. Maja Kooistra (vm. sr. wetenschappelijk onderzoekster Ministerie van Landbouw Wageningen) – Ontmoetingen met bomen &nbsphaar website
Gesprek met Pratima over sangha, poonja & Papaji (English) &nbspPoonja.com
Reggio Emilia "Leren vanuit verwondering" &nbspReggio Emilia Educational project
Relaine Rhine – zichtbare muziek (English)
Carola de Vries – Spiritual eldering en Jodendom als inspiratie
Zing-Zen en de Kunst van het Boogschieten met Paul Bouts


Avalokiteshvara &nbsp

Valentine Efiong – Kunst, spiritualiteit, Nigeria, Z.O. &nbsphis artwork
Anke van Ziel over Venus TV
Chi Kung en het Yin Yang Centrum - Rene Goris
Mansukh Patel en de Bhagavad Gita (English) &nbspWorld Peace flame
Dr. Ol Doinyo Laetoli Le BAABA on Earthreligions (bezielde kosmos) (English)
Kinesiologie met Coby Schasfoort Hof van Axen activiteiten of Natuurlijk Evenwicht
Atum O'Kane : Sufism and the Soul (English) &nbsphis website
Gran'father Stalking Wolfs' Philosophy & Tom Brown's teachings met Marja de Vries
Tom Brown's tracker school
Een psychiater op het Sjamanenpad : Healing the Spirit of Trauma met Olga Kharitidi (English)
in Kindred Spirit
Sacred Ceremony of Firewalking with Peggy Dylan (English)
De Moeder van het Vuurlopen in het Westen.&nbspSundoor
Spiritual dimensions of the Healing Art met James Barnett (English)
Maak je Dromen Waar! Life Foundation met Savitri - McCuish en Andrew (English)
Initiaties in de Andes met Hendrik Hobbelink
Terugkeer van de Inka met Elizabeth Jenkins (English) &nbspWiraqocha Foundation
Kelly Marks : Paarde(f)luisteren voor iedereen (English)
Crossing the Rainbow Bridge: Reis door de chakra's met Anodea Judith (English) &nbspSacred Centers
Sacred Passage & the Way of Nature met John P. Milton (dl.1) (English)
Sacred Passage & the Way of Nature, (deel 2) &nbspSacred Passage web
Kerstuitzending met een bijdrage van Mansukh Patel &nbspto his website
Venus's Millennium met Peter Delahay, Raven Dreamdancer,
Anke van Ziel en Dave Rensman 2000
The best of 1999 compilatie

Guru Padmasambhava &nbsp



De nieuwe wetenschap, micro-bioloog Dave Rensman
Het mysterie van je geboortedag - Gary Goldschneider (English) &nbsphis website
Psychic Surgeon Stephen Turoff (English)
Over Bioresonantie en een interview met een Voodoo priesteres in New Orleans. (gedeeltelijk engels)
Cosmic Watergate met Stanton Friedman (English) &nbsphis website
Earth Chronicles met Zecharia Sitchin(1e dl). (English) &nbsphis website
Spelen met Bewustzijn met Raven Dreamdancer (2e dl)
Communiceren met Dieren met Martha Williams & Kathinka Mansfeld (gedeeltelijk engels)
Medicijnwiel van de Maya's met Raven Dreamdancer &nbsp&nbspHet Levenswiel ~ De Heilige medicijnwielen
Wheel of Wholeness
De Nieuwe Economie met Peter Delahaye
De Bonpö Tradition met Lopön Tenzin Namdak (English) &nbspYungdrun Bön website
Healing Insights, Healing Ways met Rheva LaRue (English)
Feng Shui met R.D. Chin
Dreamyoga Teachings of the Bön Tradition - Tenzin Wangyal Rinpoche (English) &nbspThe Ligmincha Institute
The Body a Gateway to Heaven met Rheva dl.I (English)
Creating Balance into our Life. The Philosophy of Macrobiotics met Bill Tara (English)
Breaking the Money Barriers met Michael Duckett (English)


You are a star!

Energie Bewustzijn met Carolina Bont
UFO's en buitenaardsen met Huib Groenenberg en ...
The Body gateway to Heaven dl.II met Rheva (English)
Dansen met het Levenswiel (Maya Medicine Wheel) – Raven Dreamdancer &nbspDansen met het Medicijnwiel
Spirituele kulturen verbinden met Kate Rheeders (Sangoma, Kabalah, Tarot..)
Tibetan Buddhist Paths - John Reynolds (English) &nbspVajranatha website
The real stuff (teachings) – Rheva (English)
Hawaïan shamanism Ho'oponopono with Dr. Hew Len. Life an inside job with Haleakala (English)
Dr. Hew Len or Zero limits
Waarheid is Liefde. Van Vissen naar Waterman met econoom, astroloog, Ir. Peter Delahay.
A natural cure for cancer and its cover-up with Kathleen Deoul. (English) &nbspwebsite Cancer cover-up
Zwarte maan – zwarte zon. Spirituele astrologie met George Bode.
Het Nieuwe Goud. Naar een nieuwe landbouw met Onno Harmsen en Roelf Havinga.
Venus TV – 5 jaar – Jubileum uitzending
Spiritualiteit & Politiek met voormalig minister van Financiën dr. H.J. Witteveen
Wereldpolitiek & Spiritualiteit - Lisinka Ulatowska, psychologe, schrijfster en wereldburger &nbspWorld citizens Action
The best of 2001.

~~ 2002 ~~

The best of Venus TV 1996 until 2001
VTV made interviews with many other interesting & inspiring people but unfortunately the soundquality was not good enough to broadcast them a.o. Rupert Sheldrake, Philip Carr-Gom, Pir Vilayat, Alex Polari (Santo Daim), Margit Bohdalek (Raven Woman), Karin Hamaker-Zondag...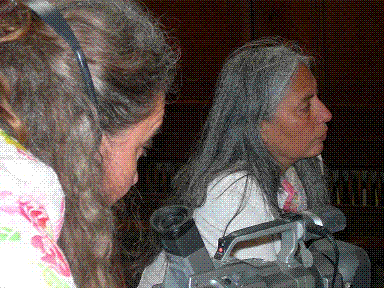 Anke & Debora